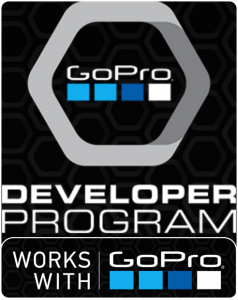 GoPro Developer Program
Die GoPro-Kamera ist nicht nur bei dir beliebt. Sicherlich haben sehr viele Privatpersonen eine GoPro und benutzen sie auch für professionelle Filmproduktionen. Aber genauso gibt es auch die öffentlichen Filmanstalten und großen Filmproduktionen, die die GoPro schätzen gelernt haben. GoPro hat nun das GoPro Developer Program ins Leben gerufen. So sind natürlich neue Ideen in der Pipeline und sollen umgesetzt werden. Mit dem GoPro Developer Program unterstützt GoPro professionelle Anwender und stellt sich noch in der Entwicklung befindende Produkte zu Verfügung.
Folgende Schnittstellen sind für Entwickler interessant:
HEROBus Camera Interface Specification
BLE Device Pairing Guide
Metadata Insertion over BLE Specification
Hier kannst du dich als Entwickler bewerben, wenn du ins GoPro Developer Program Team aufgenommen werden willst.
Works with GoPro
Ein Schritt weiter ist quasi das Works with GoPro-Programm. Mit 'Works with GoPro' erkennst du alle Produkte, die nicht aus dem Hause GoPro sind, aber offiziell von GoPro getestet und für die Verwendung ohne Probleme freigegeben sind.
Auf der Seite findest du eine Auflistung von Produkten, die von anderen Anbietern und Marken speziell für GoPro entwickelt wurden. Hier findest du immer wieder neue interessante Produkte, die die Benutzung der GoPro vereinfachen – und extra für die Optimierung des Workflows bei professionellen Produktionen gedacht sind.